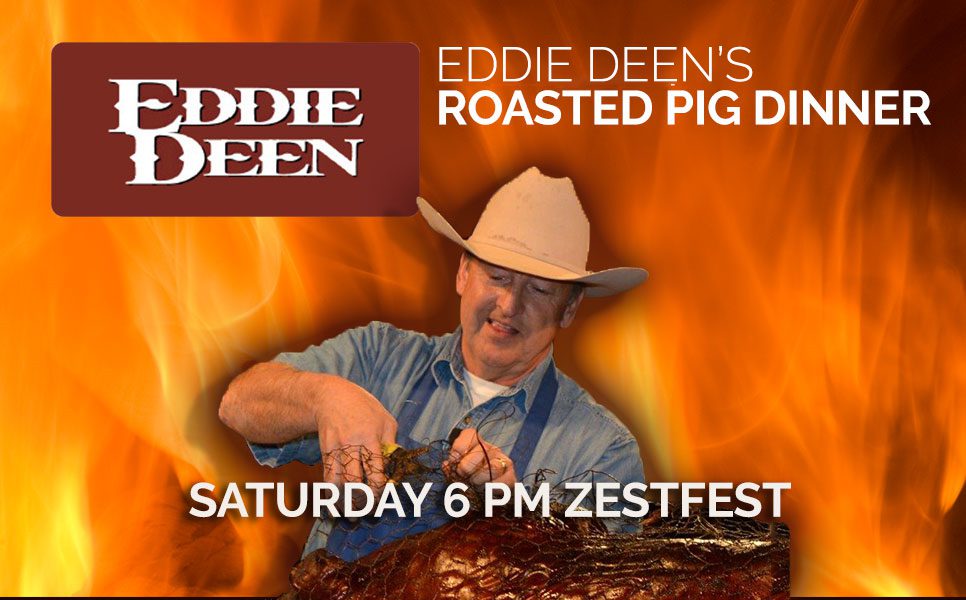 Eddie Deen's Roasted Pig and BBQ Dinner at ZestFest
The Best of the Best The King of Texas BBQ and ZestFest proudly present Eddie Deen's Roasted Pig and BBQ Dinner Saturday Jan 30 at 6:00pm
Tickets are only $15 and can be purchased at the ZestFest website ZestFest.net. Includes whole roasted pig, BBQ Ribs, Brisket plus so many sides too numerous to mention. Plus one Beer or soft drink included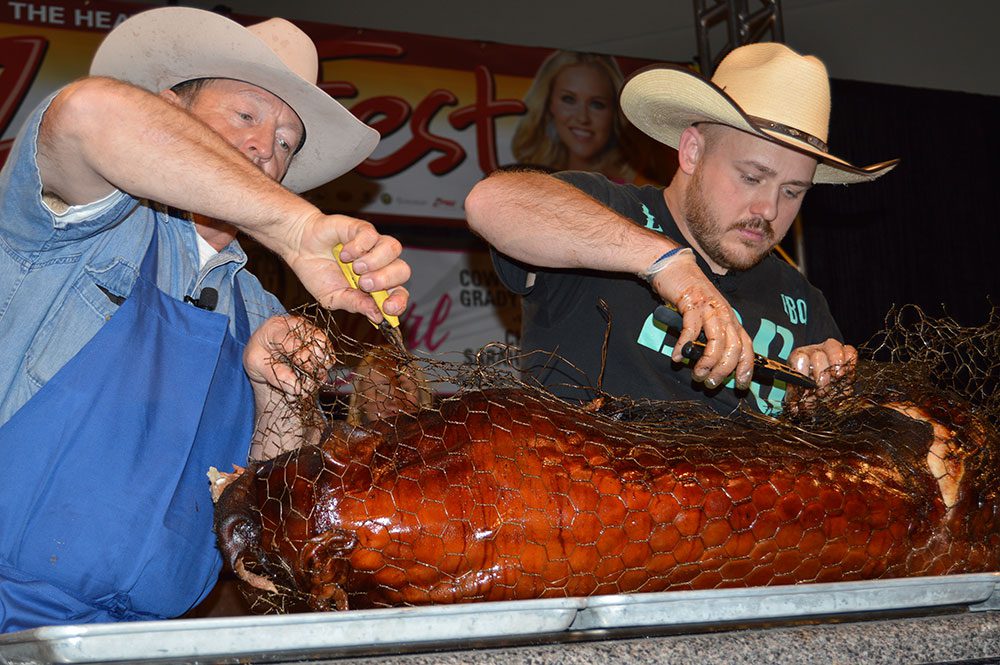 Eddie Deen Is a Proud Texan
Born in 1956, who grew up on a working Ranch in Wills Point, TX. From an early age, he learned the value of hard work, determination, and friendship. In 1979, Eddie graduated from Texas A&M University with a degree in Agriculture. After returning home in 1980, Eddie opened his first restaurant on the shores of Lake Tawakoni. At that time, Eddie began applying scientific methods to the meat smoking process. This careful attention to detail brought Eddie Deen fame not only statewide but also nationally as the top barbecue caterer in Texas.
For the past 30 years, Eddie has become an ambassador of Texas hospitality and food. After being chosen to cater Gov. George Bush's 1994 Inauguration, the business flourished. Since then, Eddie has catered 4 other inaugurations, both gubernatorial and presidential, many charitable galas, all around the world to Switzerland and Mauritius, weddings, corporate conventions, and even to his family at home each evening.
In 2000, Eddie began visiting homeless shelters in the Dallas area to seek and understand the underlying cause of this epidemic. He continued on to conduct classes at the MLK center teaching individuals how to overcome past conditioning when repeatedly finding themselves in contact with the law.
Eddie is the proud father of 5… and the grandfather of Cessie, Ace, and Dallen. Eddie and his wife Allison reside in Rockwall with the 3 younger children. Eddie enjoys playing the piano, reading, writing, and sharing with others the principles of life!
Today, Eddie has grown his catering business to include numerous companies and over 100 employees. From production, rentals, entertainment, two private event facilities, Deen's Crossroads, across from Cowboy Stadium, Smokey's BBQ Restaurant in Ft Worth, Jackson Street Restaurant in Kaufman. Eddie has packaged together a full-service event planning operation for any size party, any menu, any place…at any time.
For the best in catered meals and special events, you only have to remember four simple words…
"Absolutely Texas, Absolutely Deen"